Welcome To. .
MAINE-LY SMOKED SALMON

Company
---

FOR THE SEAFOOD LOVER IN YOU...

WILD APPLE WOOD SMOKED ATLANTIC SALMON!

MAINE-LY SMOKED SALMON™ is located just minutes away from the Passamaquoddy Bay, where our salmon are farm raised and harvested daily in accordance with the most rigid FDA and Maine state regulations and HACCP certification. Overnight delivery direct from our facilities to your door assures that you are receiving the freshest product possible.

MAINE-LY SMOKED SALMON™ is a family operated business, and owner John Constant has over 25 years of salmon processing experience under his belt. As he will tell you, "My life, for the most part, has been built around salmon farming, 18 years with another firm, the last seven with my own company. Our smoked salmon is fresh Grade-A farm-raised Atlantic salmon. All natural steps are taken to produce a golden brown, boneless product that is so full of flavor, you'll keep coming back for more. There's nothing artificial, no preservatives are used... just good, 'Downeast' boneless, wild apple wood smoked salmon."
To assure optimum freshness, we FedEx your salmon direct from MAINE-LY SMOKED SALMON's™ facility right to your door. John notes, however, that smoked salmon has a refrigerated life of up to two weeks, during which it remains fresh and tasty. Also, when you order, be sure to specify the latest weekday you would like it delivered. Please allow a minimum of three business days from date of placing your order to the desired day of delivery. Enjoy!
Attention Wholesalers: Maine-ly Smoked Salmon would like to extend its welcome to wholesale markets. We consider a wholesale market as a 10lbs. or greater sale on a regular basis for resale purposes. We would like to offer our products at low prices to restaurants and deli's and vendors in all food courts. These products can be used to enhance your menu and make a profit as well. Please contact us and we will go out of our way to supply your marketing successes. Feel free to ask us for our marketing advice. We will share our knowledge and information on sale technics and safe handling procedures. As well as recipes for restaurants and delis that have made others profitable, utalizing our smoked salmon products.
Sincerely,
John W. Constant
Owner & Operator
Maine-ly Smoked Salmon
Mainely Smoked Salmon Shirts are now available.
High Quality T-shirts for $18
Show your support for Maine's Best Smoked Salmon.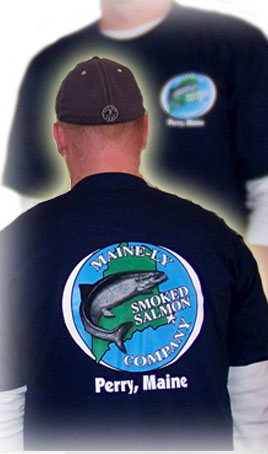 [Note: The exact FedEx charge will be added to your salmon order and billed to your credit card after your order is shipped. The shipping expense is separate from that billed for any other items purchased.]
---
"You provide the candlelight, I'll send the food"
Order your romantic dinner on-line, hassle free.
---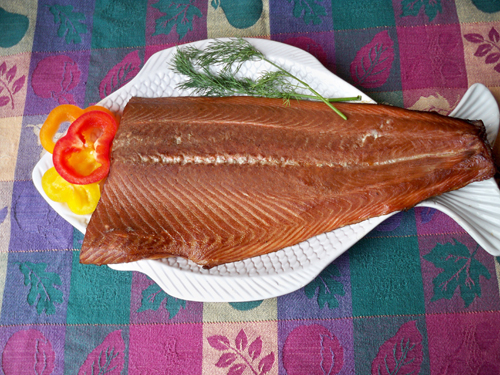 Email Us : Sales@mainelysmokedsalmon.com
or call 207-853-4794
© 2003, 2005, 2006, 2007 WebStars of Maine,
A Division of Childs Enterprises, LLC